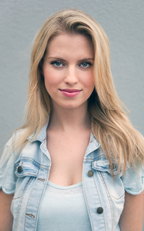 Barbara Dunkelman is the Community Manager at Rooster Teeth Productions and provides the voice for Lieutenant Jensen in Seasons 12 and 13, and briefly in 15. She also voices Yang Xiao Long in the Rooster Teeth animated web series RWBY.
Barbara's favorite Red vs. Blue character is O'Malley.

She was the head writer for the Season 14 episode Head Cannon, which prominently featured O'Malley, as well as voicing Donut's mental image in the same episode.

She is Jewish and a natural blond.
External Links
Edit