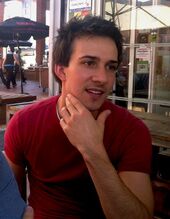 Chris Demarais is an employee at Rooster Teeth Productions who has voiced several minor characters in Red vs. Blue, such as the Space Station Guard in Season 10. He was also part of the editing team for Season 9. Other than his work on Red vs. Blue, Chris has written and acted in several RT Shorts, as well as directs the Rooster Teeth series The Gauntlet.
External Links
Edit
Ad blocker interference detected!
Wikia is a free-to-use site that makes money from advertising. We have a modified experience for viewers using ad blockers

Wikia is not accessible if you've made further modifications. Remove the custom ad blocker rule(s) and the page will load as expected.