Domed Energy Shield
Talk

0
661pages on
this wiki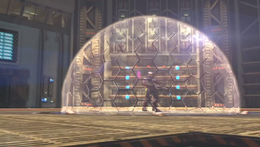 "Well, here goes nothin'."
—North Dakota
The Domed Energy Shield is an armor enhancement that creates a translucent, slightly white/gold tinted protective sphere around the user. Freelancer South Dakota uses the domed energy shield to protect herself from The Meta's attacks in Reconstruction Chapter 6.
In n+1, the Meta uses one to deflect massive amounts of rockets, gunfire and grenades fired by Sarge, Simmons, Grif and Tucker. It is unknown where the Meta acquired this unit, as Washington, Church and Caboose interfered in the Meta's battle with Agent South before the Meta could acquire hers, and Washington subsequently destroyed South's body (rather thoroughly, in fact), along with her shield unit. It's possible that the Meta was given the shield unit by the UNSC for his mission to secure the Epsilon AI.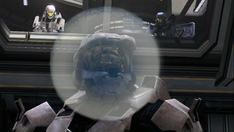 According to a deleted scene on the Season 9 DVD, the Domed Energy Shield was originally Agent Utah's. Unfortunately, Utah almost died while testing out a prototype version of it. In
Season 9
, North Dakota uses the armor ability in the episode
Evacuation Plan
, to prevent missiles from destroying the Pelican he is riding.
In Season 10 , North is later paired with the AI Theta , who can manipulate the shield to allow for greater defensive and offensive abilities, even accounting for power losses and moving targets.
External Links
Edit