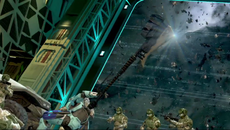 "It's fun, because you get to use a hammer!"
"And wholesome because you get to kill Grif with it."
The Gravity Hammer is a weapon featured in Red vs. Blue and is mainly used by Freelancer Agent Carolina.
The hammer's first appearance in Red vs. Blue is in the Rules of the Game PSA, as a way to kill Grif in order to play Grifball.
The weapon makes a canon appearance in the Season 9 episode The Sarcophagus, being used by Carolina to defeat Sharkface. In the Season 10 episode Heavy Metal, Carolina uses it to eliminate many Insurrectionists. Following the battle, Carolina discarded the weapon before the team left for Bone Valley.
References
Edit
External Links
Edit
Ad blocker interference detected!
Wikia is a free-to-use site that makes money from advertising. We have a modified experience for viewers using ad blockers

Wikia is not accessible if you've made further modifications. Remove the custom ad blocker rule(s) and the page will load as expected.