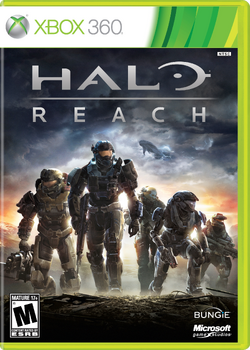 Halo: Reach is a video game created by Bungie and released on the Xbox 360. In addition to the new features previously introduced in Halo 3, Halo: Reach introduced Armor Abilities to expand character capabilities, a greatly expanded character customization system, and the enormous Forge Canvas "Forge World."
Unlike other Halo titles, Halo: Reach is used by Rooster Teeth to depict settings specifically involving A.I., such as Epsilon's recreation of Blood Gulch inside the A.I. Capture Unit and the storage location of the Alpha aboard the Mother of Invention.
Red vs. Blue Seasons using Halo: Reach
Edit
Ad blocker interference detected!
Wikia is a free-to-use site that makes money from advertising. We have a modified experience for viewers using ad blockers

Wikia is not accessible if you've made further modifications. Remove the custom ad blocker rule(s) and the page will load as expected.