"Eh oh well, maybe next time."
—Jenkins after being told by Church he wasn't there in Ruby Slippers Alternate Ending
"Absolutely!"
—Jenkins after Caboose wishes he was on Red Team in Don't Get Me Started
Jacob J. Jenkins is a simulation trooper that normally appears in dream sequences, in a green armor. He first appears in the alternate ending of Why Were We Here? called "Ruby Slippers." He then made a second appearance in the sponsor version of Don't Get Me Started.
Apparently, Jenkins was a simulation trooper that was originally going to be sent to Blood Gulch, after Freelancer Agent Florida trips over a cable to V.I.C.'s computer, shown in Why They're Here. This caused the list of five Freelancers originally meant to replace Florida, in the event of his death, to change to five sim troopers, Jenkins being one of them. However, Jenkins is never actually deployed to Blood Gulch.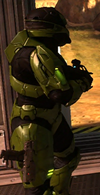 In the ending, all the adventures of the
Blood Gulch Chronicles
turn out to be a dream and
Church
, instead of being killed by the tank, only went into a coma. Church said to Jenkins that he was not in the dream because he must have forgotten about him. After this,
Simmons
and
Grif
arrive, and kill Jenkins and the other Blues.
Jenkins appears once again in the Sponsor & DVD versions of Don't Get Me Started where Sarge's fantasy on how the Red Team erased the Blue Team from the Command computers. While Sarge is driving off on "Moto-Simmons", Jenkins and Caboose are standing in the base, Caboose saying "I wish I was on the Red Team, don't you Jenkins?" and Jenkins replying "Absolutely!"
References
Edit
Ad blocker interference detected!
Wikia is a free-to-use site that makes money from advertising. We have a modified experience for viewers using ad blockers

Wikia is not accessible if you've made further modifications. Remove the custom ad blocker rule(s) and the page will load as expected.