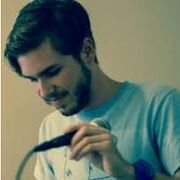 Jordan Cwierz is an animator at Rooster Teeth Productions and is most recognized for animating the Rooster Teeth Animated Adventures. He also works on the production of the podcast and has made several appearances on it as well as RT Life. Most recently, he provided the voice for Rogers in Season 12. He provided the drawings of Caboose and Grif in the Higgs Bozos PSA. In Season 14, he wrote the prequel episodes From Stumbled Beginnings, Fifty Shades of Red, and Why They're Here.
External Links
Edit
Ad blocker interference detected!
Wikia is a free-to-use site that makes money from advertising. We have a modified experience for viewers using ad blockers

Wikia is not accessible if you've made further modifications. Remove the custom ad blocker rule(s) and the page will load as expected.