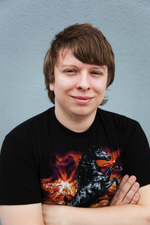 Kerry Shawcross is an employee at Rooster Teeth Productions and provides the voice for the UNSC Police soldier in Revelation and Season 10, as well as Palomo in Season 12. Kerry is also one of the main writers of the Rooster Teeth animated series RWBY and provides the voice for the character Neptune. In addition, Kerry is often involved in Achievement Hunter projects.
External Links​
Edit
Ad blocker interference detected!
Wikia is a free-to-use site that makes money from advertising. We have a modified experience for viewers using ad blockers

Wikia is not accessible if you've made further modifications. Remove the custom ad blocker rule(s) and the page will load as expected.