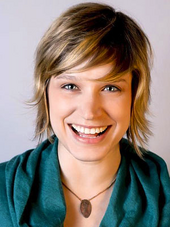 Lee Eddy is an American stage actress, comedian, and writer. She was born in Shreveport, Louisiana where as a child she was a member of The Peter Pan Players. She is best known for proving the voice for Pilot "Four Seven Niner"/Recovery Command in the mini-series Recovery One and the Project Freelancer Saga of Red vs. Blue. She is also the voice of Gwen from Rooster Teeth's animated series Camp Camp.
External Links
Edit
Ad blocker interference detected!
Wikia is a free-to-use site that makes money from advertising. We have a modified experience for viewers using ad blockers

Wikia is not accessible if you've made further modifications. Remove the custom ad blocker rule(s) and the page will load as expected.