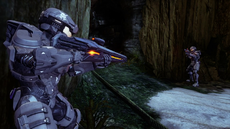 "Ugh...you know those sticky grenades kick like a mule! But I hear these newfangled laser blasters are quite lethal!"
—Sarge in Fed vs. New
The Light Rifle is a weapon that fires beams of hard light particles. This advance alien-human hybrid weapon first appears in Self Assessment, being primarily used by the Space Pirates.
External Links
Edit
Ad blocker interference detected!
Wikia is a free-to-use site that makes money from advertising. We have a modified experience for viewers using ad blockers

Wikia is not accessible if you've made further modifications. Remove the custom ad blocker rule(s) and the page will load as expected.