MIA: Episode 4
Talk

6
661pages on
this wiki
Red vs. Blue Episode
"MIA: Episode 4"
Episode no.
4
Airdate
December 3, 2011
Running time
3:51

Red vs. Blue MIA
November 13, 2011 - December 17, 2011

MIA: Episode 4
MIA: Episode 4 is the fourth episode of the maxi series Red vs. Blue: MIA.
Characters
Edit
Blue Team
Edit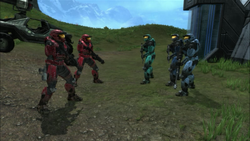 The Reds announce their suprise attack on the Blues and tell them to surrender. Simmons also accidently announces their missing soldier, in which Sarge quickly tries to cover it up. Church tells them that they already know Grif is missing, leading to Sarge accusing them for kidnapping in retaliation. After much insulting banter, Sarge demands that the Blues hand over Grif, even attempting to make a bargain for him. Church explains to them that the Blues don't have Grif at all, also stating that the Reds probably don't have anything good to bargain with either. Getting an idea, Tucker propses a plan to get Grif back; a plan that takes 2 hours due to Caboose asking many questions. The plan is for the Blues to help the Reds find Grif, in exchange for the Reds giving the Blues all of their supplies & vehicles. Tucker states that he has "a guy" to help them on their search. Simmons grabs the ransom note and the Reds & Blues hop in the Warthog, venturing off to find Grif.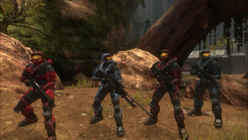 In another location, the group gets lost. Church berates Simmons because he stated he knew where the city was. Simmons fires back saying he does know where the city is, but does not know where they are in relation to it, angering Church even more. After the two continue to argue, Sarge recognizes a building. Inside the building, a high-pitched voice is heard announcing "praise for the flag". Sarge, dissapointedly recognizing the voice, tells the Blues to go inside & ask for directions, in which Church questions why. Inside, the voices increase in number, all chanting "KILL THE REDS! KILL THE REDS! KILL THE REDS! KILL THE REDS!"
Caboose says "Gotta catch em all", a refrence to the hit anime Pokemon.