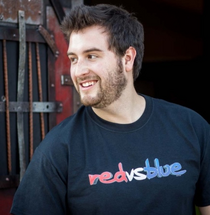 Miles Luna is a writer and director for Rooster Teeth Productions. He began work at the company helping machinimate Season 9. He later wrote Where There's a Will, There's a Wall and co-wrote Season 10.
Miles is best known for writing and directing the Chorus Trilogy, the fourth saga of the series. He also provides the voice for two Red vs. Blue characters: a Blue Zealot in the special The Best of Red vs. Blue Awards and Felix in the Chorus Trilogy. He is also currently a co-writer for RWBY and provides the voice for Jaune Arc in the same series. He also voices David in Camp Camp
He stepped down from the series after contributing to Season 14, being replaced by Joe Nicolosi.[1]
He returns in Season 15, to voice Cronut. He also replaced Shane Newville as the voice of Freckles.
References
Edit
External Links
Edit
Ad blocker interference detected!
Wikia is a free-to-use site that makes money from advertising. We have a modified experience for viewers using ad blockers

Wikia is not accessible if you've made further modifications. Remove the custom ad blocker rule(s) and the page will load as expected.