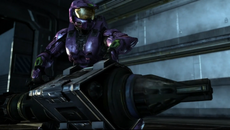 "Think you're so fucking tough, don't you, Texas? Well, let me ask you something: who's the monster now, BITCH?!"
— South when using a missile pod in Party Crasher
The Missile Pod is a missile-launching weapon available in Halo 3. It's designed to fire small missiles at a quick fire rate and made its first appearance in New Digs.
External Links
Edit
Ad blocker interference detected!
Wikia is a free-to-use site that makes money from advertising. We have a modified experience for viewers using ad blockers

Wikia is not accessible if you've made further modifications. Remove the custom ad blocker rule(s) and the page will load as expected.