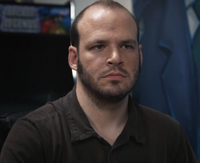 Nathan Zellner was a voice actor at Rooster Teeth Productions and is best known for providing the voice of Andy the Bomb in The Blood Gulch Chronicles and Season 11, as well as his Epsilon counterpart in Season 9. He also serves as the voice of the Alien in Season 4 and the Insurrectionist Sniper in Season 10. Nathan is responsible for certain visual effects in Red vs. Blue, such as the F.I.L.S.S. console located in the Freelancer Offsite Storage Facility in Revelation, and appears in several Rooster Teeth Shorts.
Burnie Burns confirmed on his Facebook account that Nathan no longer works for Rooster Teeth. [1]
References
Edit
Ad blocker interference detected!
Wikia is a free-to-use site that makes money from advertising. We have a modified experience for viewers using ad blockers

Wikia is not accessible if you've made further modifications. Remove the custom ad blocker rule(s) and the page will load as expected.