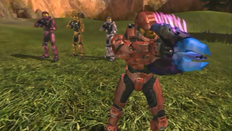 "Huh, you got a pink thing on you."
—Grif
"Wha...? Like a snake? Get it off..."
—Simmons
The Needler is used as an alien weapon that fires tranquilizers, first used in Episode 89. However, in the Chorus Trilogy, it's revealed they can also be used for more lethal means by firing crystals to impale their targets.
External Links
Edit
Ad blocker interference detected!
Wikia is a free-to-use site that makes money from advertising. We have a modified experience for viewers using ad blockers

Wikia is not accessible if you've made further modifications. Remove the custom ad blocker rule(s) and the page will load as expected.