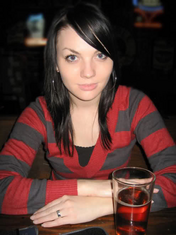 Although Rebecca Frasier was a good friend of the Rooster Teeth production crew, Burnie Burns intended to allow other women to audition for the role of Sister despite the pressure of the other members. He notes two other girls auditioned for the role before Frasier was given her chance, but when she began auditioning the team made something of a joke out of the audition, slipping in more and more lines of dialogue which got increasingly more vulgar to see how far Frasier would go before refusing to do a line. Upon realizing she had no such limits, Frasier was cast as Sister and the role was re-written as a far more promiscuous character to fit with the lines she had read in the audition.
Ad blocker interference detected!
Wikia is a free-to-use site that makes money from advertising. We have a modified experience for viewers using ad blockers

Wikia is not accessible if you've made further modifications. Remove the custom ad blocker rule(s) and the page will load as expected.