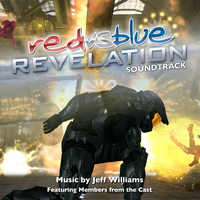 The Red vs. Blue: Revelation Soundtrack is the soundtrack for Season 8 of Red vs. Blue. It contains all the music from Revelation and its PSAs and was released on November 21, 2010. The music is composed by Jeff Williams and features members of the cast of Red vs. Blue. It is now available on iTunes[1], Amazon.com[2], and the RT store[3].
Track Listing
Edit
This is the first Red vs. Blue soundtrack to feature lyrics in a language other than English. The song Plagam Extremam Infligere utilizes the Latin track title as lyrics.
References
Edit
Ad blocker interference detected!
Wikia is a free-to-use site that makes money from advertising. We have a modified experience for viewers using ad blockers

Wikia is not accessible if you've made further modifications. Remove the custom ad blocker rule(s) and the page will load as expected.