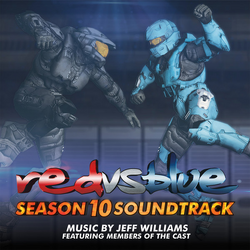 The Red vs. Blue: Season 10 Soundtrack contains music from Season 10 of Red vs. Blue. The music is composed by Jeff Williams and features other artists, such as Sandy Lee Casey, Casey Lee Williams, Lamar Hall, and Red Rapper, as well as members from the Red vs. Blue cast. The soundtrack is currently available on iTunes[1] and Google Play[2].
Track Listing
Edit
This is the third Red vs. Blue soundtrack to feature a song containing lyrics in a language other than English. The song Mental Meta Metal reprises the Latin lyrics plagam extremam infligere. The lyrics and their melody originated on the Revelation soundtrack and also appear in the Season 9 soundtrack.
Goodbye was a song listed in the Season 10 credits but it was later renamed to Forever.
References
Edit
Ad blocker interference detected!
Wikia is a free-to-use site that makes money from advertising. We have a modified experience for viewers using ad blockers

Wikia is not accessible if you've made further modifications. Remove the custom ad blocker rule(s) and the page will load as expected.