Red vs. Blue Episode
"RvB Holiday Special"
Episode no.
20.5
Airdate
December 23, 2015 (sponsors)
December 24, 2015
Running time
4:42

Red vs. Blue Season 13
April 1, 2015 - September 7, 2015
The RvB Holiday Special is a special episode of the series released following the run of Red vs. Blue: Season 13.
Characters
Edit
Join Sarge as he celebrates the holidays with tunes you (sort of) know and love. Suck it Blues!
Transcript
Edit
Coming soon...
This PSA features clips from Reconstruction: Chapter 9, Don't Ph34r the Reaper, and This One Goes to Eleven.
Sarge mentions that next year "Church is going to sing us something about a dreidel," a Jewish item, further indicating that Church is Jewish. However, this is non-canon.
Sarge also says that "Doc keeps talking about something called Kwanzaa..." suggesting that Doc may be African American. But seeing that this is non-canon, this may not be true.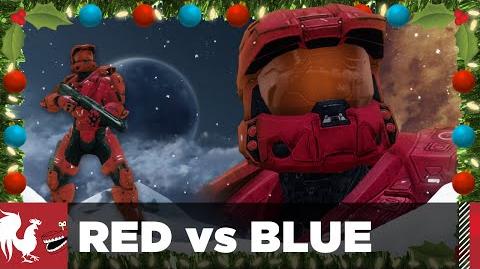 Ad blocker interference detected!
Wikia is a free-to-use site that makes money from advertising. We have a modified experience for viewers using ad blockers

Wikia is not accessible if you've made further modifications. Remove the custom ad blocker rule(s) and the page will load as expected.