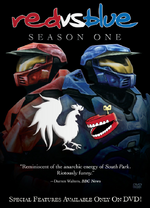 The Red vs. Blue: Season 1 DVD features the entire first season of the Blood Gulch Chronicles as well as bonus extras.
Description
Edit
Here it is! The Season One DVD. This region-free, NTSC dvd includes all episodes, PSAs, extra videos, outtakes, easter eggs and a directors commentary. Clocking in at almost 2 hours of content, it's the perfect gift for that special someone in your life. So come on and make your friend, loved one, or jailmate happy, and get them the Season One DVD!
External Links
Edit
Ad blocker interference detected!
Wikia is a free-to-use site that makes money from advertising. We have a modified experience for viewers using ad blockers

Wikia is not accessible if you've made further modifications. Remove the custom ad blocker rule(s) and the page will load as expected.