Red vs. Blue Episode
"Season 9 YouTube Preview"
Episode no.
4.5 (2)
Airdate
July 14, 2011
Running time
5:13

Red vs. Blue Season 9
March 28, 2011 - November 14, 2011
The Season 9 YouTube Preview is a video created by Rooster Teeth in order to promote Season 9. It was released on YouTube on July 14, 2011 and contains scenes from episodes 2, 3, and 4 of Season 9.
Characters
Edit
The preview begins with South infiltrating the control room of the Bjordinal Cryogenics Research Facility. She sneaks past the guards and begins to take data from a computer. North spots two small dots on visual and tells South to check her six. She does only to find an unarmed soldier holding two cups of coffee standing behind her. He goes for an alarm so South shoots him. However the body of this soldier lands on the alarm triggering it. North and South make their way to a helipad for extraction killing anyone who gets in their way. As they reach the helipad they realize they are surrounded by soldiers standing on the catwalks above.
The Demo Man tells them to stand down and hand the data over. However Agent Carolina begins to attack the soldiers on the catwalk. Carolina jumps off the catwalk and South, North, and herself begin to take out the soldiers on the helipad. During this two soldiers begin to fight over a rifle. The fight ends with South kicking the soldiers off the helipad into the icy depths below. The Demo Man gets back to his machine gun turret and takes aim at South. North pushes her out of the way only to get shot several times in the chest. While Carolina deals with the Demo Man South carries North over to the edge. Carolina drags the two over the edge where they are caught on a Pelican. As they fly away the facility explodes.  Carolina in the co-pilot seat tells South to check their six. She does and sees two Longswords pursuing the Pelican ending the preview.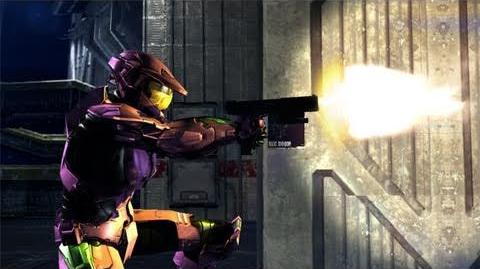 Ad blocker interference detected!
Wikia is a free-to-use site that makes money from advertising. We have a modified experience for viewers using ad blockers

Wikia is not accessible if you've made further modifications. Remove the custom ad blocker rule(s) and the page will load as expected.