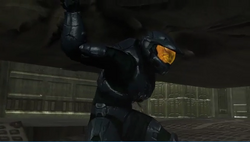 "She is a very strong lady."
—Caboose as Tex flips Sheila over in Points of Origin
Strength Boost is an armor enhancement that grants the user inhuman strength and made its first appearance in Season 1. It seemingly functions only when having one of two A.I.: Omega or Tex.
Tex: Tex is first seen using super strength to flip Sheila. However, after obtaining a new robotic body from the Reds, Tex no longer possessed this enhancement, as evidenced by her inability to lift Andy. She was also shown using it occasionally in Seasons 9 and 10, before the Blood Gulch Chronicles. She used it in Introductions to jam Wyoming's head into a concrete pillar, in Change of Plans to bust down a door that York failed to open discreetly, and multiple other times in Party Crasher.
Meta: Super strength was seen again during Reconstruction: Chapter 10 when the Meta lifted and threw heavy items at the Reds and Blues. During Revelation, he uses super strength, after capturing Epsilon-Tex, to fight against Washington, the Reds, and Tucker at Sidewinder.
Epsilon-Tex: Epsilon-Tex uses super strength in This One Goes to Eleven to lift and toss a falling crate in her battle with Tucker, Sarge, Simmons, and Grif. She also uses it in Reunion, to punch large chunks of ice at Wash and Meta.
Although he doesn't use this enhancement, Caboose is shown to have natural super strength that rivals those who use the enhancement.
Ad blocker interference detected!
Wikia is a free-to-use site that makes money from advertising. We have a modified experience for viewers using ad blockers

Wikia is not accessible if you've made further modifications. Remove the custom ad blocker rule(s) and the page will load as expected.