Red vs. Blue Episode
"The #1 Movie in the Galaxy: 2"
Episode no.
16.5
Airdate
August 9, 2015 (sponsors)
August 10, 2015
Running time
4:50

Red vs. Blue Season 13
April 1, 2015 - September 7, 2015
The #1 Movie in the Galaxy: 2 is the fourth PSA of Red vs. Blue: Season 13. It is the sequel to The No. 1 Movie in the Galaxy PSA and aired on August 9th, 2015 for sponsors and August 10th, 2015 for the general public.
Characters
Edit
In a world where movie trailers are the pinnacle of cinematic achievement, one trailer stands above the rest…
Transcript
Edit
Coming Soon...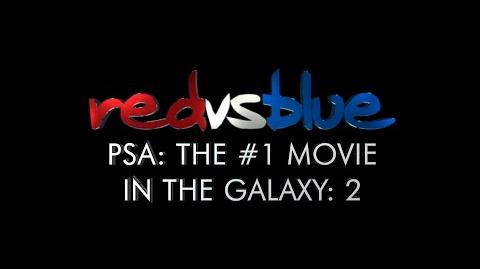 Ad blocker interference detected!
Wikia is a free-to-use site that makes money from advertising. We have a modified experience for viewers using ad blockers

Wikia is not accessible if you've made further modifications. Remove the custom ad blocker rule(s) and the page will load as expected.