"What the hell is the UNSC?"
—Grif
"Dunno, never heard of it. Sounds made up."
The United Nations Space Command, known as the UNSC for short, is humanity's primary defensive force. Unlike the Halo franchise, many of those within the UNSC are portrayed as being incompetent and serve only as a supporting role in the series.
Role in Plot
Edit
During The Great War, the organization authorized Project Freelancer in hopes of creating a feasible solution to the war, but this unfortunately ended in failure. After Charon Industries hired UNSC soldiers to act as the company's private security force, the Director of Project Freelancer convinced his Freelancer agents that the UNSC soldiers working for Charon Industries were a Resistance group that splintered from the UNSC. The Director used this deception to get the Freelancers to commit heists against Charon Industries in order to accomplish his goals. These heists often puts the UNSC soldiers working as Charon Industries' security in conflict with the Freelancer agents.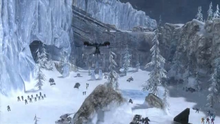 Though the project was not entirely dissolved, Freelancer continued to operate until its more illegal actions were publicly exposed. The organization then took what remained of Project Freelancer and shut it down.
At some point in the UNSC Maximum Security Detention Facility, the Chairman instructed Washington and the Meta to obtain the Epsilon A.I. for them in exchange for their freedom. However, the Meta betrayed Wash and was later killed by the Reds and Blues, while Washington avoided life imprisonment with the teams' aid before a group of UNSC soldiers arrived to the area.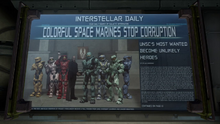 Afterwards, during Season 10, Carolina has the Reds and Blues help her break into the UNSC Archives to rescue Epsilon from his memory unit, in order to use the A.I. to locate and kill the Director. This made the organization label the Reds and Blues as wanted criminals. In Reckless, members of the UNSC Police piloting Hornets attempt to arrest the Reds and Blues, but they instead have their vehicles hijacked by the simulation troopers. However, the UNSC later pardoned the Reds and Blues for their aid in bringing Project Freelancer to justice, which they were honored for before the UNSC attempted to take the soldiers home.
Unfortunately, by Season 11, the UNSC ship that was supposed to transport the Reds and Blues home crashed, with the Reds and Blues being the only survivors. Sometime later, the UNSC receives a message from Epsilon, describing the situation on Chorus and how the planet is in desperate need of their support, in addition to describing the actions of their Oversight Subcommittee Chairman, Malcom Hargrove.
Known Members
Edit
Most Known
Edit
Other Members
Edit
External Links
Edit