"The less you open your heart to others, the more your heart suffers."
—Deepak Chopra
Hello there, I'm Agent Maroon78 and I'm a huge fan of Red vs Blue. I've watched every single episode, know the staff behind them, and enjoy discussing my ideas with others. If you want to get to know me or just talk, just message me. I also have fun facts and know other people that can help you if I can't.
Some simple things you may want to know...
Edit
My favorite characters in terms of factions are:
The character I hate most in the series is Vic (any incarnation) for several reasons.
Since 2007, I've watched Red vs. Blue and also enjoy Rooster Teeth overall; so I'm willing to help this wikia and staff when necessary.
I still enjoy watching "kid shows", such as: Ed Edd n Eddy, MLP: FiM, Samurai Jack, and Power Rangers.
I helped making the Character Relationships articles, the Character Article Format that all main characters must follow, and the Missing in Action category.
I'm currently working on the RvB Timeline (Roughly 80% done).
I have some skills in art and have several pieces of them on RvB. If you want one or have a request, I might be able to do it on my free time.
I enjoy making RVB blogs about random stuff, such as: Best Moments, RVB: the Videogame, RvB Multiverse, and several others.
Fun Facts
Edit
These are trivia facts that I made. However, if the section has ♦ at the end, it has been considered speculation or hasn't been accepted yet; if the section has a ♥ at the end, it's beeen accepted to be Trivia.
Currently, only seven characters have appeared in 100 or more episodes in RVB series, which are (in order of most to least): Caboose, Simmons, Grif, Sarge, Tucker, Church, and Donut. Ironically, these are also the only characters to obtain a RVB-ism poster. ♥
Don't Say It is not only the 22 episode of Season 10, but also the 222 episode (not including trailers) overall in Red vs. Blue. ♥
Blood Gulch (the location, not map) has the most appearances out of all locations in the series. ♥
Every season finale has a plot twist with the exception of saga-finishing seasons (Season 5, Revelation, and Season 10). ♥
If Church had used the same method of naming himself like O'Malley and Gary, where you combine the A.I. name with the owner's first name, then Church's name would most likely been Allen (ALpha + LEONard). ♦
Epsilon currently has appeared in more mini-series than any other character (4 total). ♦
All main human antagonist at one point had the color white involved with them, as Wyoming's armor was entirely white, the Meta's primary armor color was white, and the Insurrectionist Leader had white trim when he used C.T.'s armor. ♥
Simmons and Grif are the only characters to appear in all types of animations used in Red vs. Blue and have the longest series lifespan out of any character as they appeared in the first trailer. ♥
Epsilon is the youngest known A.I. fragment as he is shown to be the last created. ♥
Blood Gulch Crew Chart
Edit
This chart is dedicated to show the members of the Blood Gulch Crew, characters (who are "good") that have aided and joined the Reds & Blues of Blood Gulch. Along with this, I included the side they're currently on, their signature color, prefered weapon, and current status.
Blood Gulch Crew
Reds
Simmons
Grif
Sarge
Donut
Lopez
Color
Maroon
Orange
Red
Pink
Brown
Weapon
Rocket Launcher
Brute Shot
Shotgun
Plasma Grenades
Missle Pod
Status
Active
Active
Active
Active
Inactive
Blues
Tucker
Church
Caboose
Sheila
Tex
Junior
Washington
Color
Aqua
Cobolt
Blue
Grey
Black
Teal
Yellow/Steel
Weapon
"Great Weapon"
Sniper Rifle
Assult Rifle
Herself
S.M.G.
None
Battle Rifle
Status
Active
K.I.A.
Active
Inactive
K.I.A.
M.I.A.
Active
Others
Doc
Andy
Sister
Epsilon
Carolina
Color
Purple
G.M. Green
Yellow
Sapphire
Cyan
Weapon
"Medical Scanner"
Himself
Magnum
Monitor
Grappling Hook
Status
Active
M.I.A.
K.I.A.
Active
Active
 

 
Overall Main Cast
Edit
There are over 90 characters in Red vs. Blue, but these are the 21 most known, recurring, and had the biggest impact on the entire series. They are listed only in the amount of episode appearances for now, but I'll fix that eventually.
Main Characters
1.
Caboose
8.
Tex
15.
Director
2.
Simmons
9.
Washington
16.
Omega
3.
Grif
10.
Epsilon
17.
Carolina
4.
Sarge
11.
Doc
18.
Wyoming
5.
Tucker
12.
Lopez
19.
York
6.
Church
13.
Meta
20.
Andy
7.
Donut
14.
Sheila
21.
Delta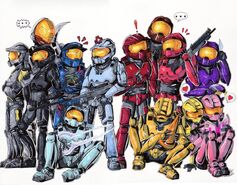 These are the people I currently trust most and get into decent conservations with. They are pretty great and if I get to know you then you'll be on here too.
Youtube Page
Edit
I've created a youtube page and plan to eventually make reviews and maybe Let's Plays. Currently, I'm working on the theme songs for the main cast, with the aid of oo7nightfire. So if you're interested check it out once in a while and my username there is the exact same here: